Kali ini saya akan memberikan tutorial cara menyembunyikan folder dan file komputer. Hidden sendiri artinya sembunyikan ( file, folder, dst ). Kita akan coba menyembunyikan folder dan file dengan cara yang sangat cepat dan mudah di lakukan.
Pertama, Pilih folder mana yang akan kita sembunyikan/ hidden. folder yang kita pilih, nantinya file- file yang ada didalam folder tersebut akan ikut tersembunyikan juga. Lalu klik kanan seperti gambar dibawah,
Lanjutkan, Pilih properties seperti lingkaran merah dalam gambar diatas.
lalu akan muncul tab baru. Tab ini memberikan pilihan action untuk kita pilih. Kita beri tanda centang pada kotak hidden (lihat lingkaran merah pada gambar dibawah ini ).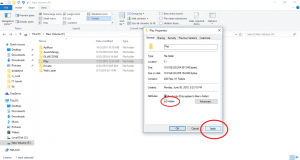 Kemudian Klik Apply. apply berarti kita siap untuk sembunyikan folder dan file yang kita pilih. lalu pilih OK.
Terakhir, Kemudian akan muncul tab konfirmasi. Muncul beberapa pilihan apakah kita akan menyembunyikan folder yang kita pilih saja, atau seluruh folder dan file yang ada didalam folder tersebut.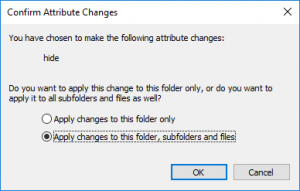 Karena kita akan sembunyikan folder beserta filenya, jadi kita pilih option / pilihan yang kedua "Apply changes to this folder, subfolders and files". klik OK.
Akhirnya folder beserta file- filenya telah berhasil kita hidden (sembunyikan). Terlihat pada gambar dibawah, folder PLAY sudah tidak tampil di layar.

Sekian tutorial cara sembunyikan hidden folder file windows os yang telah kita ikuti bersama. semoga bermanfaat.
Baca juga : Cara Menampilkan Folder dan File Tersembunyi